The body copes by sending some signs that tell you about your deficiency of nutrients. You can reverse most of these issues with foods rich in the missing nutrient, a supplement, or both.
Here are 5 common signs that will tell you that your body needs more vitamins:
1. Brittle Hair and Nails
It is common to lose around 100 strands of hair every day but if you are experiencing large clumps of hair on your pillow or in the shower drain, it might be a sign of biotin deficiency.
It is also known as Vitamin B7 and helps the body to convert food into energy. Hair loss can also be caused due to iron deficiency which is one of the most common nutrient deficiencies today.
Other symptoms of biotin deficiency include chronic fatigue, muscle pain, cramps, and tingling in the hands and feet.
2. Cracks around the corners of the mouth
Mouth ulcers and crank sores are generally signs of nutrient deficiency particularly iron and vitamin B. One small study concluded that patients with mouth ulcers appear to be twice as likely to have low iron levels.
In another small study, around 28% of patients with mouth ulcers had deficiencies in thiamine (vitamin B1), riboflavin (vitamin B2), and pyridoxine (vitamin B6).
Whole grains, poultry, eggs, dairy, meat, fish organ, meats, legumes, green vegetables, starchy vegetables are good sources of nutrients like thiamine, riboflavin, and pyridoxine. 
3. Bleeding Gums 
Sometimes a wrong brushing technique might not be the only cause for the bleeding of your gums; vitamin C deficiency is also to blame.
Vitamin C plays a pivotal role in the wound healing process and immunity of the body. It is also a powerful antioxidant and helps in the prevention of cell damage.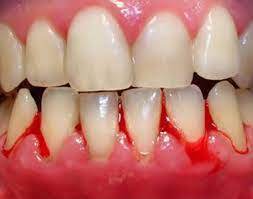 Vitamin C deficiencies are not commonly seen in individuals who consume enough fresh fruits and vegetables.
Scurvy is a serious consequence of vitamin C deficiency that leads to a weakened immune system.
4. Poor vision at night 
A diet that is low on nutrients might cause vision problems. Less consumption of vitamin A is often linked to a condition known as night blindness, which reduces people's ability to see in low light or darkness.
Low vitamin A means a low amount of Rhodopsin pigment that helps you to see at night. Deficiency of vitamin A also causes Xeropthalmia which damages the cornea and might lead to blindness if left untreated.
Those who suspect their vitamin A intake is insufficient can try eating more vitamin-A-rich foods, such as organ meats, dairy, eggs, fish, dark leafy greens, and yellow-orange colored vegetables.
5. Unexplained fatigue 
When your fatigue cannot be explained by the deficiency of sleep, increased stress, or any other underlying illness, you might want to examine vitamin D levels in your blood.
This vitamin is unique. Your body prepares vitamin D when your skin is exposed to the sun, but it doesn't show up naturally in many foods.
If you don't see the sun often, it's time to add vitamin D to your diet with Tuna, Salmon, fortified food, or consult your doctor for supplementation.
Also Read: UPDATE ON VACCINE IN INDIA AND WORLD