After all, if you're inclined to have thin, unattractive hair, you wouldn't want to exacerbate the problem by eating the incorrect foods, would you? Even if you seem like you belong in a hair commercial, you'd want to keep your appearance, right? This is where choosing the most nutritious foods for hair development comes into play. Consider this before spending another year's worth of money on expert treatments or products to achieve the lustrous hair you desire. Although hair thickness and strength are mostly determined by genetics, the food you consume (or don't eat enough of) can have an impact on your hair's condition just as much as that costly conditioning treatment.
1. Eggs
Eggs are high in protein and biotin, two elements that may help hair grow faster. Because hair follicles are largely formed of protein, eating enough protein is essential for hair development. Hair loss has been linked to a lack of protein in the diet.
Biotin is required for the creation of keratin, a hair protein, which is why biotin pills are frequently sold as hair growth supplements. Biotin supplementation has also been found to increase hair growth in persons who are deficient in vitamins.
Biotin deficiency is rare in those who eat a well-balanced diet. There is minimal evidence that ingesting additional biotin benefits healthy people.
2. Almond Butter
Almond butter has a variety of elements that have been related to hair health, including protein, healthy fats, and certain vitamins. Researchers claim that the vitamin E component in the nuts is particularly beneficial for keeping your hair strong and shiny. Participants who supplemented daily with 100 milligrams of vitamin E had a 34 percent boost in hair growth, according to a small eight-month study published in the journal Tropical Life Sciences Research.
Vitamin E is nearly 3.87 milligrammes in a tablespoon of almond butter. A daily allowance of 15 milligrammes of Vitamin E is suggested, so almond butter will get you there, especially if you eat more than one tablespoon.
3. Berries
Berries are high in antioxidants and vitamins that may help with hair development. Vitamin C, for example, has potent antioxidant effects.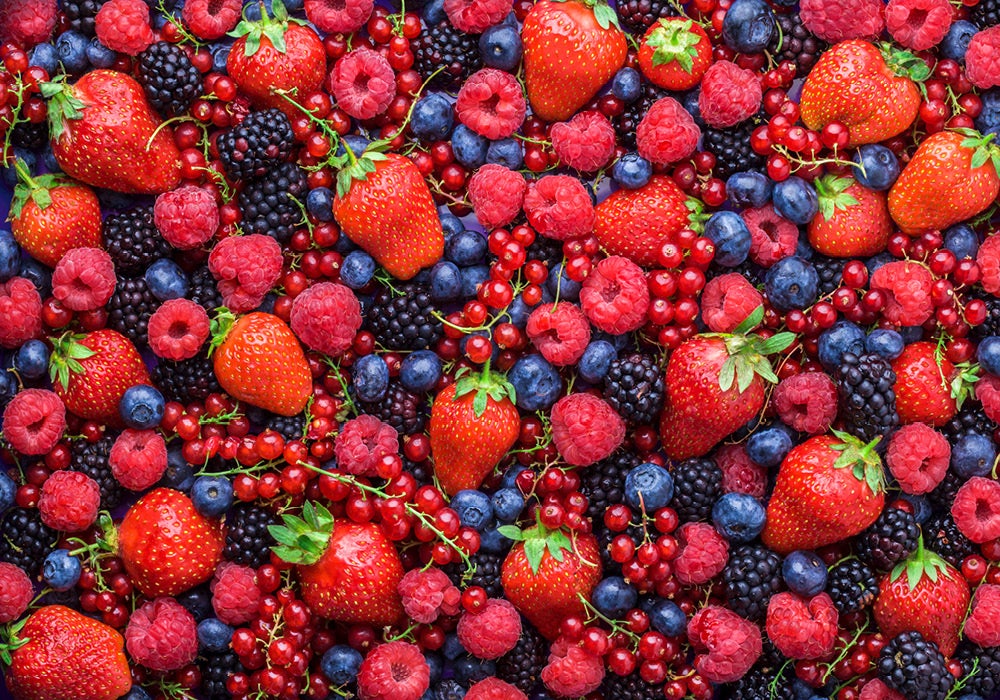 Antioxidants can help protect hair follicles from damage caused by free radicals, which are harmful molecules. These compounds can be found in the human body and in the environment. One cup (144 grams) of strawberries, for example, delivers 141 percent of your daily vitamin C requirements.
Vitamin C is also used by the body to make collagen, a protein that helps keep hair from becoming brittle and breaking.
Furthermore, vitamin C aids in the absorption of iron from the food. Anaemia, which has been linked to hair loss, can be caused by low iron levels.
4. Tangerines
Tangerine advantages have a significant impact on your hair. Their high vitamin C concentration aids in the absorption of iron, which is abundant in foods such as red meat and spinach. 
According to research published in the Journal of Korean Medical Science, iron deficiency has been related to hair loss, so make sure you're receiving enough. Vitamin C-rich foods will only enhance your body's ability to absorb iron.
5. Spinach
Spinach is a nutritious green food that is high in folate, iron, and vitamins A and C, all of which may help with hair development. Vitamin A aids the production of sebum by the skin glands. This oily material keeps hair healthy by moisturising the scalp.
A cup (30 grammes) of spinach can supply up to 54% of your daily vitamin A requirements. Spinach is also a good source of iron, which is necessary for hair development. Iron aids growth and repair by assisting red blood cells in transporting oxygen throughout the body to fuel metabolism.
6. Salmon
Salmon is high in omega-3 fatty acids, which have a wide range of health advantages.
"Omega-3 fatty acids have anti-inflammatory properties. If you have inflammation that is causing hair loss, they can assist "Dr Carolyn Jacob, a dermatologist, informed EatThis.com about the greatest foods to prevent hair loss. Walnuts, chia seeds, and flax seeds are all excellent providers of omega-3s.
Omega-3 fatty acids not only keep you fit and disease-free, but they also help you develop hair and keep it lustrous and full. Both male-pattern baldness and female hair loss are frequently linked to insulin resistance, according to nutritionist Dr Joseph Debé, CD, CDN. Salmon is one food that aids in the proper processing of insulin by the body.
7. Fatty Fish
Nutrients found in fatty fish such as salmon, herring, and mackerel may aid hair development. They're high in omega-3 fatty acids, which have been linked to increased hair growth.
A study of 120 women revealed that taking an omega-3 and omega-6 fatty acid supplement with antioxidants decreased hair loss and enhanced hair density.
In another study, women with thinning hair who took a fish oil supplement had a significant reduction in hair loss and an increase in hair growth.
Only a few studies on omega-3 fatty acids and hair development have been conducted. Before health experts can make any recommendations, more research is required.
Fatty fish is also high in protein, selenium, vitamin D3, and B vitamins, all of which may aid in the growth of strong and thick hair.
8. Greek Yogurt
Have you ever noticed what appears on the top of practically every antique Greek statue? A wavy mop of thick, abundant hair. Is it a creative decision? Perhaps. Perhaps it's because of the thick, protein-rich yoghurt that Greeks and other civilizations have consumed for centuries.
Vitamin B5 (also known as pantothenic acid) is found in Greek yoghurt, and B vitamins can help you maintain healthy skin and hair.
Also Read: Gene Editing: The Key To Invisibility… From Mosquitoes