THD NewsDesk, NEW DELHI: In a total of 16 districts comprising four states of Gujarat, Karnataka, Tamil Nadu, and Telangana the COVID mortality are the highest, recorded until 8th August, at 8 am.  
These districts include Ahmedabad and Surat from Gujarat; Belagavi, Bengaluru Urban, Kalaburagi, and Udupi from Karnataka; Kanchipuram, Chennai, Ranipet, Theni, Thiruvallur, Tiruchirapalli, Tuticorin and Virudhunagar from Tamil Nadu, and Medchal Malkajgiri and Hyderabad from Telangana.
These districts, according to the Ministry of Health and Family Welfare, have the highest number of daily news cases, low test rates, and a high confirmation percentage.
 "Apart from the higher case mortality, these districts account for 17 percent of India's active cases," the ministry said.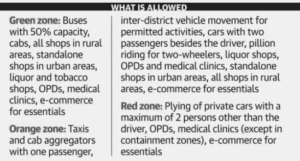 Image source: The Hindu 
The ministry is trying to determine the causes of reports of high mortality rates coming from these districts.
A high- level virtual meeting was held in the chairmanship of the Health Secretary Rajesh Bhushan, representing the Center- state collaborative effective strategy to contain and manage the pandemic.
Those participating in the meeting included principal secretaries, Health and the MDs of National Health Mission from the four states accompanied by district surveillance officers, district collectors, Commissioners of the municipal corporations, Chief Medical Officers, and Superintendents of medical colleges.
The states were advised to make sure the districts implemented the Ministry of Health sanctioned COVID advisories, guidelines, and protocols in order to reduce the mortality rate, especially among people with comorbidities, pregnant women, older people, and children.
"Following the Continuum of Care approach, as sincere containment and surveillance efforts have a bearing on the case mortality, states were advised to ensure optimum capacity utilization of testing labs, increase tests per million population and reduce confirmation percentage, in addition to ensuring timely availability of ambulances with target zero refusal," the ministry also said.
The importance of containment of infection among healthcare workers was also emphasized along with ensuring the availability of an adequate number of beds and oxygen.
The panic mode has been activated for India and the other massively populated countries, for the public contact is becoming extremely arduous to curb. With the surge in the COVID-19 positive cases in these 4 States, an alarming ring has been generated for the other States to intervene at once and initiate a prompt response to the novel coronavirus disease.