Alopecia areata is a medical condition that causes hair to fall out in small patches, which can be undetectable. These patches may connect, however, and then become noticeable. The condition develops when the immune system attacks the hair follicles, resulting in hair loss.
Sudden hair loss may occur on the scalp and in some cases the eyebrows, eyelashes, and face, as well as other parts of the body. It can also develop slowly and recur after years between instances. If the condition is not treated within due time, it can result in total hair loss, called alopecia universalis. This can also prevent the hair from growing back in the future. 
There's currently no cure for Alopecia areata. However, there are treatments that may help hair grow back more quickly and that can prevent future hair loss, as well as unique ways to cover up the hair loss. Resources are also available to help people cope with stress related to hair loss.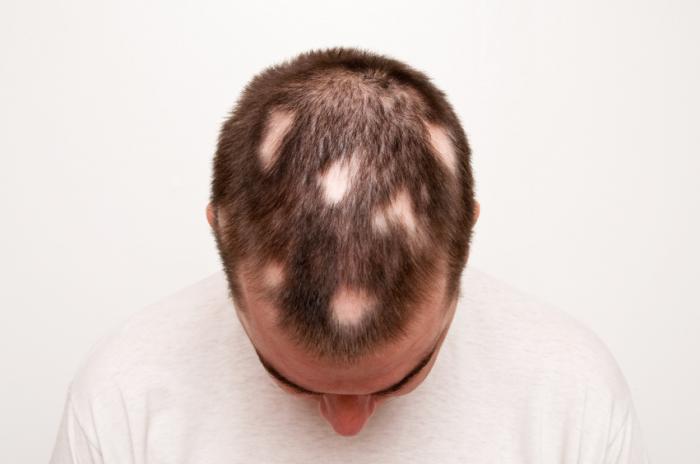 Cause of Alopecia areata:
Alopecia areata is an autoimmune condition. An autoimmune condition develops when the immune system mistakes healthy cells for foreign substances. Normally, the immune system defends your body against foreign invaders, such as viruses and bacteria. But if you have Alopecia, your immune system mistakenly attacks your hair follicles. The follicles become smaller and stop producing hair, leading to hair loss. 
Researchers don't know the exact cause of events but this condition is seen generally in patients who have a family history of other autoimmune diseases like type 1 diabetes mellitus and rheumatoid arthritis. This is why some scientists suspect that genetics may contribute to the development of Alopecia areata. 
Symptoms of Alopecia areata:
The main symptom of Alopecia areata is hair loss. Hair usually falls out in small patches on the scalp. These patches are often several centimeters or less.
Hair loss might also occur on other parts of the face, like the eyebrows, eyelashes, and beard, as well as other parts of the body. Some people lose hair in a few places. Others lose it in a lot of spots. However, other health conditions can also cause hair to fall out in a similar pattern. Hair loss alone isn't used to diagnose Alopecia areata. 
Medical Treatment:
To trat Alopecia areata at the earliest, consult a dermatologist as soon as possible. Starting an early treatment will reduce the damage caused to hair and also prevent further hair fall. 
Topical immunotherapy is a technique in which a chemical like diphencyprone is applied to the skin to spark an allergic rash. The rash, which resembles poison oak, may induce new hair growth within six months, but you'll have to continue the treatment to maintain the re growth. 
Oral immunosuppressants, like methotrexate and cyclosporine, are another option a peson can try. They work by blocking the immune system's response, but they can't be used for a long period of time due to the risk of side effects, such as high blood pressure, liver and kidney damage. 
Right now, the prevention of Alopecia areata is not possible as the cause of the condition is still not known. There can be a variety of risk factors, most important include family history, other autoimmune condition, and even other skin conditions. 
Also Read : 7 Tips For A Far Better Feminine Hygiene