These accidents are so common which has fueled a different concern among the people and authorities apart from the covid management crisis. Eleven of the 24 fires were serious, while the other thirteen were small.
More than half of these fires happened in March and April, when a second wave of Covid-19 cases erupted. Maharashtra had 43 deaths, while Gujarat had 35, according to records dating back to August. The recent hospital fire in Gujarat's Bharuch claimed the lives of 16 patients and two staff.
Many of these small and medium hospitals do not have an updated no objection certificate (NOC) for fire safety, according to fire and architectural specialists. Hospitals were compelled to ramp up swiftly to fight the epidemic, according to Joy Chakraborty, chief operating officer of Hinduja Hospital and chairman (health care) at the Confederation of Indian Industry (western region), and this may have led to key aspects being disregarded.
"Fires can occur even after the best infrastructure has been put in place. It's also crucial to keep everything running smoothly." In the aftermath of the pandemic, certain governments have established fire safety standards. But it's unfortunate that in India, where countless buildings are tinderboxes — the country accounts for nearly a fifth of all serious fire accidents worldwide, according to the Global Disease Burden Study 2017 — no special measure or public awareness campaign was launched to prevent fires during the health crisis.
Hospitals also follow local civic authority by laws when it comes to meeting fire safety standards. Synergic Designs' Raghunanda Aiyangar, who specialises in hospital design, remarked. "Big corporate hospitals have a lot of money." As a result, they have the financial means to purchase large tracts of property and adhere to NBC and local civic body fire safety regulations. However, this is not the case for small and medium-sized hospitals and clinics.
Jumbo centers for Covid patients in temporary hospitals bring their own set of issues. Sprinklers or fire alarms are difficult to install since they are constructed of highly flammable materials. Only fire extinguishers are available. In Gujarat, there has been a lack of cross-ventilation, particularly in ICUs, to keep them sanitary.
Furthermore, COVID-19 is causing more flammable materials to be present in hospitals, such as sanitizer vapour and spills, increased oxygen content, and synthetic material-made PPE kits. These contribute to a faster spread of fire and a shorter response time, according to the report.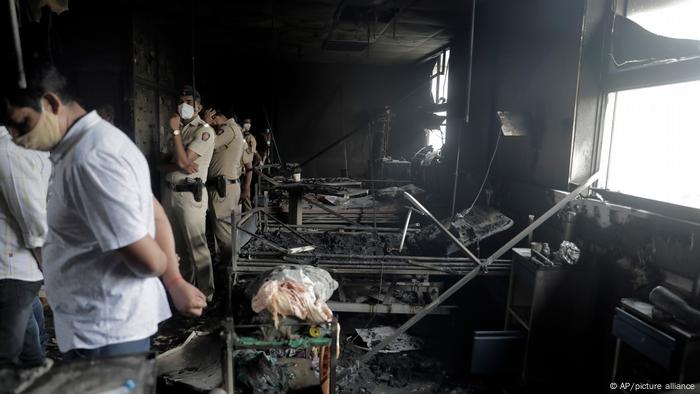 The chief ministers of Gujarat, Andhra Pradesh, Telangana, Odisha, and Uttar Pradesh have instructed fire safety authorities to perform safety checks at COVID-care facilities following the catastrophes in Ahmedabad and Vijayawada. However, the reverberations created by fires across the country normally dissipate quickly. As a result, it's past time to take steps to eradicate the culture of scrimping on safety.
Also Read: A Demand-Supply Mismatch In Healthcare