Healthcare companies are constantly searching for ways to transform the industry in ways that make it more cost-effective and efficient. The healthcare industry is massive, and it can be difficult to find nuggets of value within its sprawling system. However, there are still a lot of opportunities for companies looking to create meaningful change. The issue is that no one knows what needs to be changed until you look at data and analytics from multiple angles. Data and Analytics in Healthcare allow them to form data-driven strategies if they want to see any results. And, fortunately, there are many benefits to doing so.
What are Data and Analytics?
Data is any information that's stored and can be retrieved from an electronic device or system. It can be raw data from medical devices, electronic health records, EHRs, etc., or processed data from surveys or analysis of past data. Analytics is a field of study that uses data analysis to help businesses make better decisions.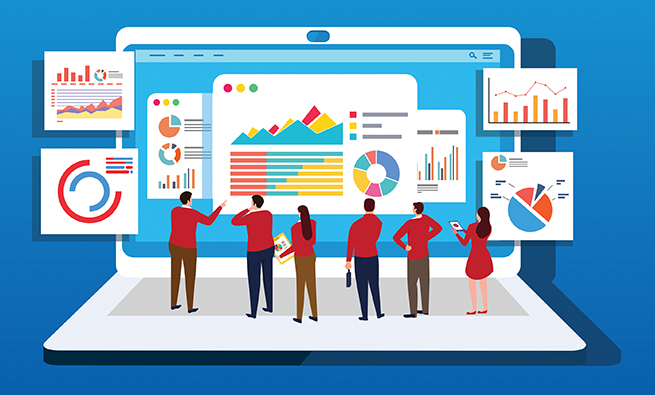 Healthcare organizations are now producing an abundance of data; however, there is a dearth of real-time insights and actionable data. Analytics is being applied more frequently, but the quality of data is often subpar, which leads to poor decision-making.
Key benefits of Data and Analytics in Healthcare
Better outcomes – Better outcomes are the ultimate goal of any healthcare organization. When data and analytics are integrated into healthcare operations, they can help improve the quality of care and outcomes for patients.
Better efficiency – The healthcare industry is notoriously inefficient. The more data a healthcare company has, the more likely they are to find inefficiencies in operations and make improvements.
Better customer experience – The quality of the patient experience is another key benefit of data and analytics. By analyzing data from electronic health records, laboratory reports, and other sources, healthcare organizations can find areas for improvement and make the patient experience better.
Cost savings – Any business will reap the rewards of data and analytics in healthcare. With the influx of data, healthcare organizations will be able to pinpoint areas for cost savings.
How to get started with Data and Analytics in Healthcare
You've identified the benefits of data and analytics in healthcare and are excited to get started. Before you jump into implementing analytics solutions, it's important to understand the key components of data and analytics in healthcare. Healthcare data is often messy, unstructured data. There are three key components to successful analytics implementations in healthcare that can be used to clean up the data, structure it, and transform it into actionable insights.
Data governance – Ensuring that data is managed effectively is an important first step. Data governance is about controlling access to data, creating policies and procedures around data use, and setting up a data audit trail.
Data quality – Poor data quality can have a significant impact on most analytics implementations. It can result in inaccurate data, incorrect data, or missing data. A good data quality program should address all three of these issues.
Data integration – Businesses will often use multiple data sources to power their analytics solutions. It's crucial that the data sources are integrated with each other.
Data and Analytics in Healthcare: Quality matters
Poor data quality is one of the most common issues in healthcare. A report from the Commonwealth Fund revealed that one in three healthcare organizations has low-quality data and is missing key data elements. Low-quality data often results in inaccurate data, which can lead to incorrect analysis or even bad decision-making. It also leads to a decrease in the efficiency of the business, impacting operations and the bottom line. Healthcare organizations should ensure that the data they're using is accurate and up-to-date.
This means making sure that the data is complete, correct, and current. There are a number of ways to improve the quality of your data. You can clean up the data you have by correcting data entry errors, flagging data that are incorrect, correcting spelling and grammatical errors, and more. Another way to improve the quality of your data is to use data cleansing tools like data scrubbing and cleansing tools. Data cleansing tools help you remove inaccurate, incomplete, and outdated data from your systems so that you can use the remaining data for analysis.
Other challenges with Data and Analytics in Healthcare
As data and analytics are such a hot topic in healthcare, one might think that they would be easy to implement. Unfortunately, the reality is that they can be challenging to implement and overcome. One of the biggest challenges with data and analytics in healthcare is data quality. It's important to ensure that the data you're using is accurate and up-to-date. It's also important to make sure that the data you use is relevant to your needs. Another challenge that many healthcare organizations face is finding the time to implement analytics solutions.
It's important to remember that analytics is a continuous process. To overcome these challenges, it's important to build a data-driven culture within the organization. A data-driven culture will encourage employees to bring their best ideas to the table and help them identify opportunities for collaboration. Data and analytics also need to be part of the company strategy. It's important to determine how and why data and analytics are being implemented.
How do hospitals use Data and Analytics in Healthcare?
Hospitals are likely to be the most data-inclined organizations in healthcare. As a result, they're likely to have the most sophisticated data infrastructure and analytics platforms. It's important to note, though, that even smaller hospitals have tremendous amounts of data. They often have hundreds of thousands of patient records, millions of lab reports, millions of prescriptions, etc.
The challenge for smaller hospitals is that they often don't have the resources to analyze all this data. They need to prioritize the data they analyze and use as a way of prioritizing their time and resources. A lot of hospitals are also struggling to find qualified data scientists to help them with their analytics implementations. As a result, many hospitals are hiring data scientists from other industries and disciplines.
How do medical device companies use Data and Analytics in Healthcare?
Medical device companies are also getting on board with data and analytics. They face similar challenges as healthcare organizations when it comes to data quality and connectivity issues. Medical device companies are also looking for solutions that can help them integrate their data and analytics platforms with their legacy systems.
Medical device companies are also looking for solutions that can help them comply with data security regulations. They want solutions that can help them protect their data while also providing real-time insights. Medical device companies also want their solutions to be customizable, flexible, and easy to deploy. They don't want their solution to be an off-the-shelf solution.
How do Data and Analytics in Healthcare improve productivity?
Healthcare systems are complex, and it can be challenging for companies to find ways to improve their productivity. But data and analytics can be great resources for this. By looking at data, businesses can get an overview of their processes, which can help them identify areas that could use improvement. Some of the areas where businesses can improve their productivity include these.
Efficiency – The amount of time it takes to perform certain tasks
Data Quality – The accuracy of the information is gathered
Compliance – The level of quality that is exhibited as a result of processing data
Risk Management – The potential for harm that can occur as a result of data usage There are many ways for healthcare companies to improve their productivity. For example, integrating analytics into business processes can help companies determine where to allocate their resources. A company that consistently performs below average may find that it is receiving more work than it can handle. By identifying these issues, the company can create a plan for improvement that allows it to stay focused on the tasks that are most important.
Data leads to insights that drive change
Many healthcare companies struggle to find a way to turn data into actionable insights that result in real change. However, a lot of this can be solved with the right data and analysis. Many healthcare companies struggle with this because they do not have a solid strategy in place. Without a plan to direct the data being created, it can feel like there are no easy answers.
However, this can be solved with a bit of strategy and a solid data foundation. By setting a strategy, the data strategy, and then creating a solid foundation on which to build, the data strategy can lead to real change. Data can show the deficiencies within the system, which can help healthcare companies identify areas that need improvement. It can also show areas of strength and potential growth, which can help healthcare companies identify areas of opportunity.
Data Contributes to Cost Reduction
Healthcare is an expensive industry, and there are a lot of factors that contribute to the cost of healthcare. One of the most obvious is the cost of data. However, healthcare companies can also find ways to reduce the cost of data collection. By using data management tools and ensuring that the data being collected is accurate and complete, the cost of data can be reduced.
This will optimize the ability for healthcare companies to collect the data that is most relevant and help reduce the risk of error. It can also help increase the efficiency of the data management process, which means that data collection is faster and less costly. By streamlining the process, cost savings can be achieved, as well as the ability to collect more data in a shorter timeframe.
Conclusion
Healthcare is a necessary service. However, it is also incredibly expensive and inefficient. By applying data and analytics in the right ways, healthcare companies can see the impact that the data has on their industry and the organization. Healthcare companies can improve their productivity by integrating analytics into their processes. By doing so, it will be easier to identify where the inefficiencies lie within the process.
It will also allow businesses to stay focused on the tasks that are most important. Data also contributes to cost reduction by optimizing the data collection process and reducing the risk of error. By doing so, healthcare companies will be able to collect more data in a shorter timeframe and at a lower cost. All of these benefits result in cost savings that can be invested back into the organization, helping to improve patient outcomes.